Hi ...
---
I 'm Jacques,to be precise Jacques Bendien, English by birth and Neapolitain by adoption.. I've been defined as a 'photographic portrait artist' and 'one who designs with light'. I'll let that be, I've never been too keen on labels believing more in individual sensations than in general considerations.
Put simply I'm one who's curious, having a lively spirit with a profound thirst for knowledge, which specifically aims to extrapolate and then relate what lies behind a certain look, a smile, a glance to be immortalized as a timeless photographic image.
I've come across so many faces in my life: for three years I travelled the Low Countries, land of my forefathers, intent on throwing light on my artistic roots; but on one face only did my eyes finally come to rest for always, Yvonne my life companion, an indispensible inspiration and moral support to me for more than 50 years.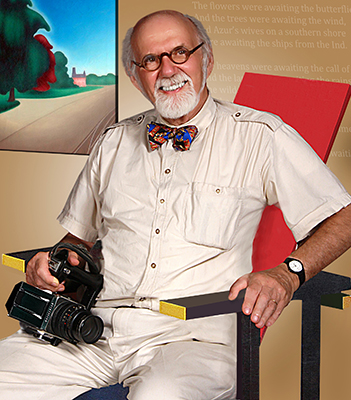 On the road...
---
I t was July of 1965 that we left Amsterdam together for an extraordinary adventure around the world leading us to one of the most incredible cities I'd ever seen. La mia Bella Napoli, generous adoptive godmother who now after over 50 years still continues to feed and inspire my soul and stimulate my creativity.
Thanks to its enfolding embrace I have cultivated relations and with them, emotions. Over the years many Neapolitans, and not only, have passed through my studio on via Manzoni and who to this day have my work displayed in their homes; with reciprocal pride.
There have been young clients who on entering my studio recognize a portrait of a family member or associates my name with one of their grandfather hanging in the drawing room at home…. Well, in that moment I look back on my life and smile, proud to have left my mark, a memory that continues to live on unchanged in a portrait of an emotion, for always.
.
---
This passion of mine is innate, it's instinctive, a hallmark of my style: just as the painter uses his brush as an instrument to create his work, in the same way I use the camera to search out a person's soul, its lens a "magnifying glass" to "put into focus" hidden emotions, to reveal, in the warmest of tones all the sentiment that transpires.
I had been noticed by the artist photographer Desmond Groves of Harrods – London, thanks to whom I was accepted as a member of the British Institute of Professional Photography, receiving the honour of being nominated photographer for Her Majesty the Queen Elizabeth II and the Prince Philip the Duke of Edinburgh during their visit to Italy in 1980.
Besides various exhibitions, seminars and publication of my work, I have presided at various photographic events, many for charitable causes.